There is a Solution.
We're Here to Help.
24 Hour Helpline: (941) 951-6810
Español: (941) 335-3399
- Announcements -
Anniversaries: Please submit your group member anniversaries for the upcoming month to newsletter@aasrq.org! They will be included in the newsletter the month after.
Helpline Volunteer Opportunities: Central Office is also looking for volunteers for the AA Helpline. If you're interested in a valuable service opportunity, click here for more info or please email us at helpline@aasrq.org.
H and I Volunteer Opportunities: Interested in joining teams of volunteers who carry the AA message into Detox or Rehab/Treatment Facilities? How about carrying the message into Jails/Corrections Facilities? There are opportunities to help others suffering from the disease of Alcoholism. Click here to see the flyer and contact the Hospitals & Institutions Chairperson at hichair@dist4gsaa.org for more information.
New P.O. Box for GSO Contributions:
Effective immediately, please send contribution checks to:
Post Office Box 2407
James A Farley Station
New York, NY 10116-2407
(Read full statement From GSO)
Central Office Open House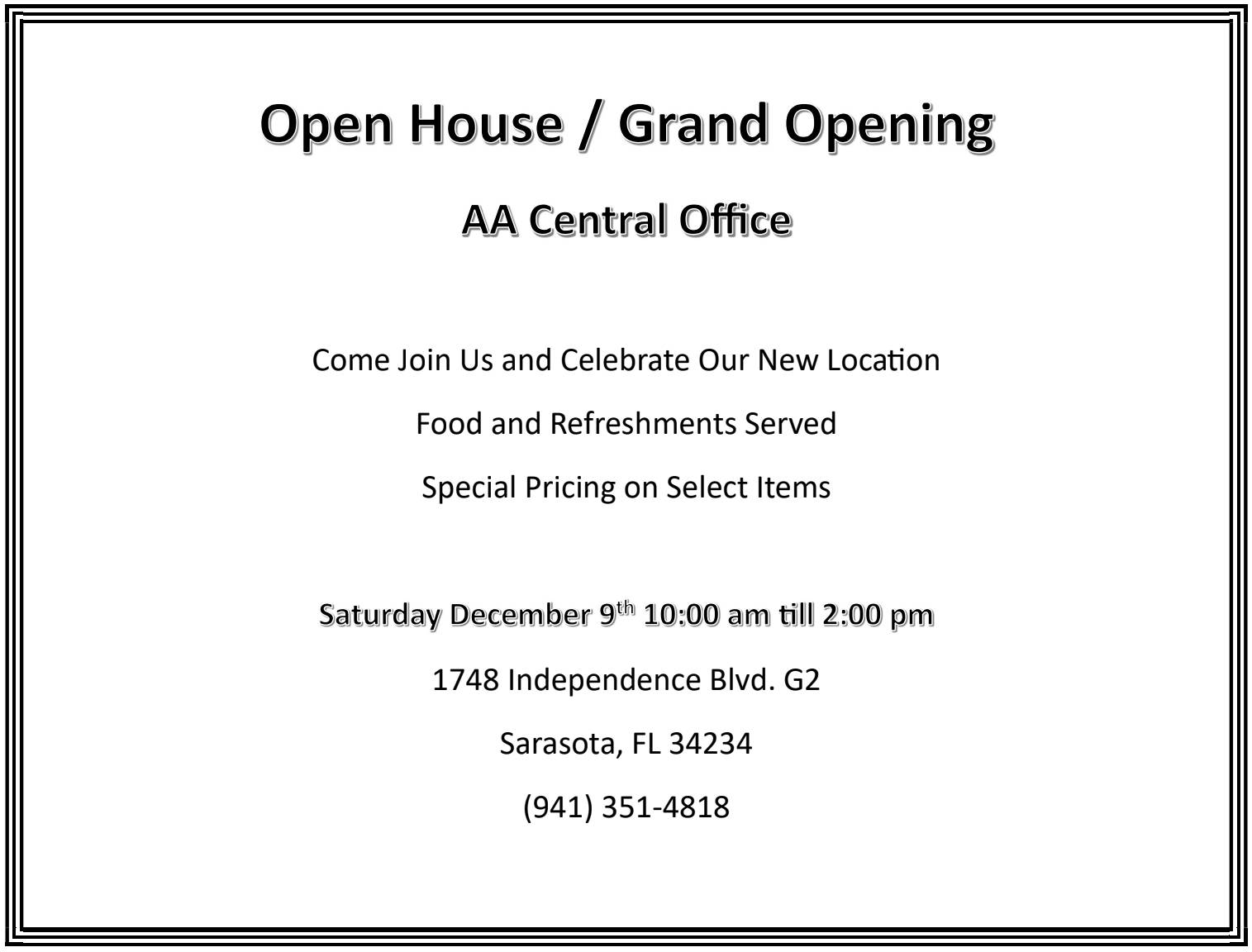 About Central Office
Learn a bit more about who we are and what we do.
Events
Announcements and current happenings in Sarasota, Bradenton, and surrounding regions.
Resources
Looking for more information about Alcoholics Anonymous in general?
Central Office of Sara-Mana
1748 Independence Blvd. Suite G-2
Sarasota, Florida, 34234
Open Monday through Thursday, 9-4
 - Closed on Fridays, Weekends and Holidays
(Martin Luther King, President's Day, Memorial Day, July 4th, Labor Day, Thanksgiving and Christmas to New Year's Day)
TEL: 941-351-4818
Al-Anon Help: 941-749-1750
(AA and Alcoholics Anonymous are registered trademarks of Alcoholics Anonymous World Services Inc. This site is not endorsed by A.A.W.S. nor affiliated with Al-Anon.)